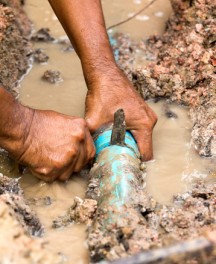 A sudden spike in your water bill is one of the most important signs pointing to a water leak.
Contact us for professional detection and repair services.
Using the latest leak detection equipment, we can pinpoint the source of underground leaks without any digging or damage to the surrounding area. A decision can then be made whether to repair the fault or bypass it with new pipework.
The end result means leaks can be found and repaired with minimal disruption to property. This causes less disruption and can save thousands of dollars in costly search-and-destroy methods that do not guarantee a leak location.
Our highly specialized acoustic equipment lets our plumbers listen for leaks in pipes located in the ground and under concrete slabs. The pressurised water forced through a leak creates sound waves that can be detected with our specalised accoustic equipment.
Call us today on 0800 LEAK DOCTOR for more information on our leak detection services.